Thanks Mocha Uson for making a stand on being Filipina, being sexy without being degrading and objectifying, and also to the article you've written.
I should have known this during Girl Power month of 2012. I guess I was too preoccupied with things I should need to think of as I am about to resign from my former Call Center company. That time, I considered Mocha girls as any sexualized personalities on TV known for being sexy more than their singing and dancing talent alongside Kitty Girls. If not with the usual random searching on the net, I wouldn't have known Mocha Uson deeper thru her blog. My thought about Mocha Uson changed and I may not be her fan, but she is far more educating while freely discussing about SEX, and she is a degree holder unlike other sexy starlet out there who forget finishing their degree because they think they are big on showbiz. She is not your typical sex symbol. She is seriously a bombshell with brains. If you do not get what she is thinking, you maybe more nonsensical than her. The way she discusses about sex, is not in a sleazy manner, and something that both men and women enjoy. Another thing, she is not your typical starlet na pinulot lang sa tabi-tabi may career na.
Also, I don't think the following pictures below desecrates Philippine flag, symbol and Filipinohood:
It's not degrading. The pictures above shows the following things: Being Filipina, Sexy and Proud of it. While being sexy doesn't actually mean gettin' half-naked; however, gettin' half-naked doesn't mean sleaziness. In Mocha's case, as a Filipina, she is proud and comfy with her sexuality, and that ain't a bad thing. Yeah, she's sexual, but she's not the one whom you can objectify like any starlets out there.
And the body painting of Filipino symbol is done with taste. People, stop being hypocritical and know the sheer difference between sexual and sexualization and know the danger of sexualization. You ain't that stupid to know that almost all of our actors and actress in mainstream entertainment are getting sexualized. I don't care if you impose to me the following statements "it's in the law", "it's in the constitution" blah blah blah.
This century, it is no longer the time for Filipinos to act conservative and pseudo-wholesome. I am not encouraging everyone to be hypersexual if being sexual is not you, but this time is about time to feel comfortable about your sexuality, feel great with your erotic side, liberate yourself regardless of gender without hurting anyone.
Just like Mocha. Just like me. It is not secret to you all how "liberated" I am, yet I can discuss everything about sex without being sleazy.
In fact, she is not the only one who "wrap-around" the national flag on her body. In South Korea, meanwhile, they had Shim Mina (before debuting as a singer) wore a Korean flag around her waist, with Korean flag painted onto her face, and she is equally sexy, considering that South Korea is mooooooore conservative and moooooore patriotic than the Philippines.  [For the idiots out there, Shim Mina is famous for her one of the 2003 hit song Answer the Phone. Yeah, that's Korean, prior to Kpop explosion in the Philippines]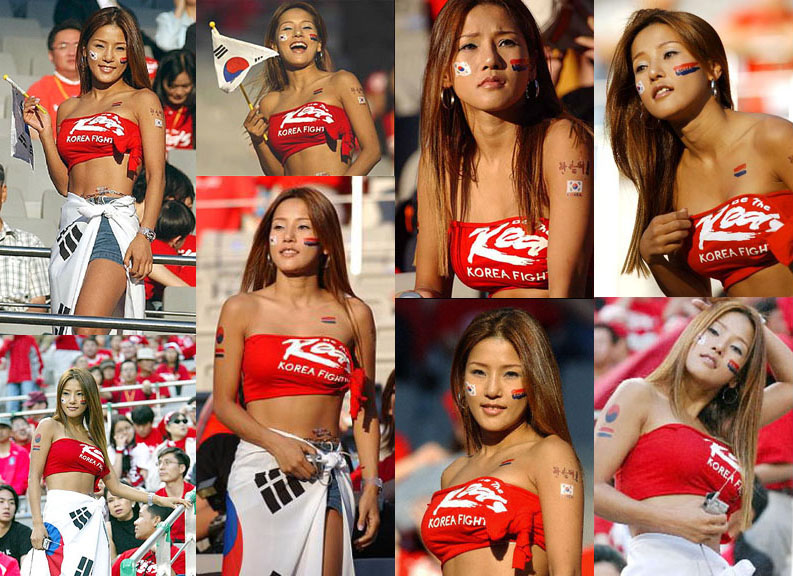 And she's right. Ang daming personalidad at mamamayan na naglalapastangan, kung hindi sa bandila ng Pinas, sa pagka-Pilipino. I have already told you that the time she mentioned Azkals and yet another sexual harrassment bullshit, bumaba ang tingin ko sa Azkals. And hell yeah, FHM's cover featuring Bela Padilla with 'blackened' ladies surrounding her, subtitled "stepping out of shadows", is freakin' racist. I have nothing against Bela though, but FHM was so stupid in releasing their mags. Sad thing is, many of us natives in the Philippines do not know the sheer difference between what's racist and what's not. Wala akong pakialam kung lektyuran ninyo ako ng history at kung paano na-inculcate sa atin ang "maganda ang maputi" syndrome, because this one has now gone a lamest excuse in the face of archipelago.
Allow me to make a separate topic about this (if found time). It would just make my thread go out of topic.
Anyway, let's go to the video and song itself.
Music dynamics-wise? The quality has gone better, and you can sense how progressive Mocha girls when it comes to music, and new members are more talented, and they've got more stage power than before. I do not question Mocha as far as stage presence is concerned. Her vocal talent may not be that great, but she ain't a lame performer, and I also got impressed with Mae De la Cerna. The girl can sing, and dance powerfully than anyone else. She is an ex-EB babe, after all.
Since they moved from Bellhaus Records (Universal Records subsidiary), their quality of their music and videos have gone better, compared to when they were in Viva Records. Mabuti pa ang Universal Records, hindi nangtitipid. No wonder, a lot of big-named icons transferred from Viva Records to Universal. As far as music production is concerned, Viva Records sucks BIG BIG TIME, lacking innovation. No wonder, nasayang ang pagpapa-debut sa Pop Girls at XLR8 because, as much as I like them, some of their tracks are of pang-novelty-song quality. As a matter of fact, they'd rather geared onto the novelty quality like Star Records than of higher quality.  You guys can't deny that.
The lyrics itself is kind of a little repetitive, but the message is very empowering for a Filipina like me. I've never heard any song that empower Filipinas, and I have never heard Viva Hotbabes (even Sexbomb girls are not spared) singing songs that empowers Filipinas and advocating independence.
FILIPINA. PROUD. CONFIDENT. SEXY.
There is nothing wrong with being sexy. What's bad is, you act conservative but if told to get naked and be fucked, you do it. I hate it when people are starting to think dirty thoughts against people open about their sexuality. This is the sad truth about some fellow Filipinas: They act conservative, act innocent, they even have the nerve to lash at someone whom they think 'slutty', but when their boyfriends are around, or foreigners with money, they are free to spread their legs for them. Even the artistas. Those who act wholesome are the ones who are 'high-class prostitutes'. When provoked by their boyfriends, they are free to lie on bed without thinking they might get preggers.
If you think that prostitutes are more dignified than those who hook up here and here simply because the former are being paid, you are wrong. Prostitutes, yeah, being paid… being paid to be ordered to do what their patrons want them, even inserting a bottleneck onto their vags, being fucked in their arses, double-penetrated, gang-banged, brutally fucked, not knowing the risks of what they are doing, even getting an HIV. Another thing, those who hook up freely have MORE CHOICES than those being paid for sex. Those 'paid' ones are the ones susceptable for unprotected sex. They are being paid for that after all. Bawal tumangi, alam ninyo iyan.
I have nothing against some one-night stands though, just as long as you are watchful with your partner, and be protected. Seriously, birth control pills and withdrawal are not better options than condoms. Condoms are way better. If you want guys, better check the comparisons between different birth control methods and safetiness rate between them.
Man! I am going out of topic. Anyhow, I may have some lapses which I admit. However, you may learn a thing or two from me, and to those who relate with me and Mocha, thank you very much. You are few of the most intelligent creatures in the Philippines.
Quotes from Mocha:
The Mocha Girls and I have been touring different parts of the world. We've performed several times in Dubai, Bahrain, Guam, Hong Kong, Malaysia, Cambodia, etc. It seems everywhere we go, there are Filipinos. During our tour, we were so happy to meet fellow Filipinas who follow the Mocha Girls on Facebook and Twitter. They enjoyed our performances and were also proud of us because even their expat friends were impressed. But most of all, we are more proud of these Filipinas – working abroad away from their families. International companies hire Filipinos because of our confidence in our competence. We value our work, take pride in our jobs and strive to do our best. We are hard workers. We're also well versed in both written and spoken English. We can easily comprehend instructions, can work lengthy hours and deliver results. We are the world's finest!

The Mocha Girls and I want to uplift Filipinas all over the world through our music. There have been songs written about patriotism and devotion to our country such as NOYPI (Bamboo), PINOY AKO (Orange and Lemons), etc. But why hasn't there been any song about PINAYS? Then came the birth of "PINAY AKO".
Bastos Daw and How are we surrounded with hypocrites:
I maybe the "horniest performer" out there but I am WHOLESOME. What is "wholesome" anyway? According to Merriam-Webster dictionary:

1. : promoting health or well-being of mind or spirit

2 promoting health of body

3 : sound in body, mind, or morals

4. clean

I am promoting health and well-being. I have morals! I maybe horny but I have rules and principles. I am Pro-RH (Responsible Horniness):

1. Never mess with guys/girls who are not single (unless their partners are willing to share)

2. Always use protection. Great safe sex is the best!

3. For my young followers, stay virgin as long as you can. Nothing wrong with being a "solo" artist. Practice makes perfect.

Sad to say, we live in a world full of hypocrites. There are celebrities out there who present themselves as "wholesome" but in reality are professional prostitutes. Give them 150k pesos and they're yours for a night. I may not present myself as "wholesome" but I don't fuck for money. There are also some directors of TV shows/networks who take advantage of artists. You can be a regular part of that show only if you have sex with the director. Showbiz is a dirty world. Because of the stigma attached to being an entertainer, my management and I are very strict with the Mocha Girls. We don't entertain "sponsors", dirty old men, politicians, etc. We don't tolerate prostitution in our group. This is the reason why former members were axed from the group.

People can say anything they want about me. They can accuse me of being "bastos" – because I promote safe sex, I encourage the youth to use protection (condom), I encourage couples to enjoy sex, I'm fearless, I say what's on my mind, I'm open-minded, I don't give a fuck about what people say, etc.  Call me "BASTOS" all you want but I AM NOT A WHORE.
Mabuhay tayong lahat!